The main entrance (and ticket office) for Fontainebleau is in the Cour d'Honneur, off of the Blvd Magenta. If you take the bus from the train station, however, you'll be dropped off at the Château stop at the entrance to the Jardin de Diane.
Enjoy this peaceful garden and then make your way around to the right to the Cour d'Honneur. From here you can enjoy the beautiful façade of the Château and proceed to the entrance for your tickets and audio guide (optional but included in the fee).
You'll first visit the Musée Chinois, with the Asian collections of the Empress Eugénie. She enjoyed entertaining in these rooms.
The Petits Apartements were occupied by the king and his family, and later by Napoléon I and Josephine.
On the first floor are the Musée Napoléon I, the Grands Apartements, and The Gallery of Paintings.
All of the rooms are lavishly painted and decorated, with furniture, sculptures, carpets, paintings, tapestries, and ceramics representing the changing tastes of the monarchs who lived at Fontainebleau.
Some of the bedchambers in the Grands Apartements are so intensely decorated you wonder how anyone actually managed to sleep in them! Here is the bedchamber of Anne of Austria, Queen consort of Louis XIII, from the 17th century: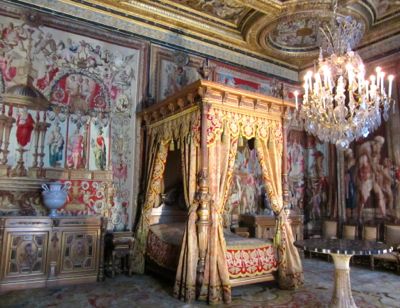 A number of large, high ceilinged galleries contain paintings, sculpture, decorated ceilings, and large windows looking out on some of the gardens.
Throughout the Château you'll see evidence of the various inhabitants of Fontainebleau over the centuries: the salamander seal of François I, Napoleaonic "N"s, equestrian statues of Henri IV, and more.
Seven hundred years of royal inhabitants leave their mark, and Fontainebleau is a great place to see where many of them lived.
---